3–4 December, Bahrain
BBTC MENA 2018
Bottom of the Barrel Technology Conference
3 & 4 December, Bahrain
5–6 December, Bahrain
ME-CAT 2018
Middle East Catalyst Technology Conference
5 & 6 December, Bahrain
BBTC MENA & ME-CAT 2018

BBTC MENA – Bottom of the Barrel Technology Conference and ME-CAT 2018 – Middle East Catalyst Technology Conference took place from 3–6 December in Bahrain.
Established 17 years ago, Euro Petroleum Consultants' BBTC – Bottom of the Barrel Technology Conference Series remains the only event focusing on technologies, project trends and equipment innovations relating to residue upgrading in refineries. It has become one of the most insightful conferences for the refining industry in the Middle East, especially as more and more focus is given to residue upgrading.
ME-CAT - Middle East Catalyst Technology Conference is an event fully focused on bringing together catalyst suppliers, licensors, contractors, service providers and end users for a unique opportunity to exchange on the latest catalyst developments. Catalytic processes are at the heart of all refineries and petrochemical complexes and with the global catalyst market booming, the conference will give key stakeholders the unique opportunity to be brought up to date with the latest developments in this dynamic and fast rate growing sector.
ExxonMobil
Technical
Workshop
FLEXICOKING™, the Cleaner Coking Technology
Tuesday 4 December 13:00–17:00
FLEXICOKING™ technology is a commercially proven, cost-effective, continuous fluidized bed process that thermally converts heavy feeds to lighter products and flexigas.
FLEXICOKING technology, as an integrated process, offers great flexibility when upgrading residuum, as it provides high-value liquid products as well as clean flexigas that can be used as refinery fuel or for power generation. This complimentary workshop, hosted by ExxonMobil experts, discusses both the technical aspects of the technology as well as the business case for its use. Workshop contents include:
Overview of FLEXICOKING™ process
Technology applications and benefits
Customer case study
Run plan considerations and LP cases

Key Topics:
Market Overview & Trends
Increasing Conversion & Complexity to Meet Demand & Remain Competitive
Impact of IMO Marpol VI Regulations - Challenges, Solutions, Refining & Shipping Industry Cooperation
Residue Upgrading Innovation & Technologies
Focus on Thermal, Ebullated Bed & Slurry Hydrocracking technologies
Current & Future Projects - Case Studies, Best Practices, CAPEX Optimisation & Efficient Project Management & Execution
Innovations in Tools & Equipment - Specialised Instrumentation & Heat Exchange Equipment, Efficient BOB Equipment Clean-out Techniques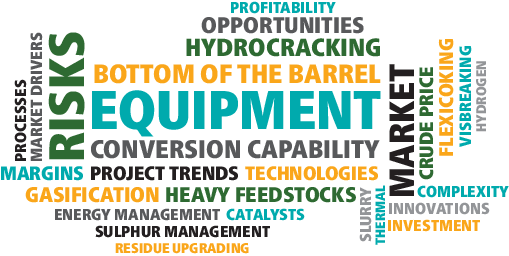 BBTC MENA 2018 Advisory Committee
Nadia Bader Hajji

DCEO (Al-Zour Petrochemical & LNGI)

Kipic

Hafedh Al-Qassab

GM Refining

Bapco

Vinod Ramaseshan

Engineering Specialist

SAUDI ARAMCO
David Marion

VP Manufacturing

Satorp

Mubarak Al-Mutairi

Manager Technical Services MAB

KNPC

Stefan Chapman

Vice President

Euro Petroleum Consultants

Key Topics:
Catalysts for Refining

Catalytic Reforming & Isomerisation Catalysts
Hydroprocessing Catalysts
FCC Catalysts for Max Naphtha
Selective Hydrogenation Catalysts
Residue Hydrocracking
Catalytic Dewaxing
Solid Bed Alkylation Catalysts

Catalysts for Petrochemicals

Catalysts for Aromatics & Olefins Production
Detergents
FCC Catalysts for Max Olefins

Enzymes & Bio-Catalysts – BioRefineries
Catalyst Management – Guard Beds, Regeneration, Spent Catalyst, Metals Recovery, Presulfiding, Monitoring Tools & Instrumentation
Modern Catalyst Testing, Evaluation Techniques & Procedures
The Importance of Research in Producing Performance Catalysts
Hydrogen Production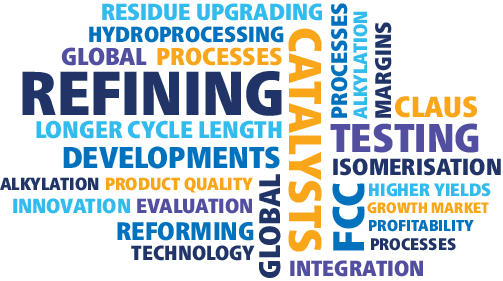 ME-CAT 2018 Advisory Committee
Mikael Berthod

Vice President

ADNOC Refining Research Center

Gregory Lilburne

Manager, Technical Services

BAPCO

Mubarak Al-Mutairi

Manager Technical Services MAB

KNPC

Abdulaziz Al-Ghamdi

Supervisor, Catalytic Conversion Unit

SAUDI ARAMCO

Ali Al Khalaf

Operation Engineer

SATORP

Radwan Abdallah

Senior Manager, Catalyst Petrochemicals

SABIC

Jorge Gascon

Director and Professor

KAUST Catalysis Center (KCC)

Willem van Kooten

Owner

BRU-TECH
Exhibitors
Detailed Programme of the Week
Regular Attendees

2018 Conferences
BBTC MENA 2018 – Bottom of the Barrel Technology Conference took place on 3−4 December at The Diplomat Radisson Blu Hotel, Bahrain. On 5-6 December in Bahrain, the Middle East catalyst community came together at ME-CAT – Middle East Catalyst Technology Conference, to network and share insights on how to maximise success through catalyst innovations.
The conferences took place under the Patronage of H.E. Shaikh Mohammed bin Khalifa Al Khalifa, Minister of Oil, with the support of the National Oil & Gas Authority (NOGA) and Bapco as Principal Sponsor.
BBTC MENA 2018 – Bottom of the Barrel Technology Conference, 3–4 December, Bahrain
ME-CAT 2018 – Middle East Catalyst Technology Conference, 5–6 December, Bahrain
Testimonials
"
An excellent conference: providing opportunities to network with catalyst manufacturers, licensors, co-operators, catalyst/spent catalyst and handling organisations
"
Bottom of the Barrel Conference is very valuable source of information, knowledge and sharing experience
"
Excellent presentations and amazing networking opportunities
Kingdom of Bahrain
An ancient land rich in culture and history, Bahrain - which name means "two seas" in Arabic - was one of the first states in the Gulf to discover oil and to build a refinery. Bahrain has one of the most diversified economies in the region, the result of a commitment to a sustainable future. Manama is the capital and largest city of Bahrain, with an approximate population of 157,000 people. Long an important trading center in the Persian Gulf, Manama is relaxed and cosmopolitan and is a favourite destination for visitors.
Venue
Manama, Bahrain