3–4 December, Bahrain
BBTC MENA 2018
Bottom of the Barrel Technology Conference
3 & 4 December, Bahrain
5–6 December, Bahrain
ME-CAT 2018
Middle East Catalyst Technology Conference
5 & 6 December, Bahrain

Welcome to
BBTC MENA & ME-CAT 2018
Euro Petroleum Consultants is pleased to announce BBTC MENA 2018 – Bottom of the Barrel Technology Conference and ME-CAT 2018 – Middle East Catalyst Technology Conference will take place from 3–6 December in Bahrain.
Established 17 years ago, Euro Petroleum Consultants' BBTC – Bottom of the Barrel Technology Conference Series remains the only event focusing on technologies, project trends and equipment innovations relating to residue upgrading in refineries. It has become one of the most insightful conferences for the refining industry in the Middle East, especially as more and more focus is given to residue upgrading.
Following BBTC MENA, we are pleased to bring to you ME-CAT 2018 - an event fully focused on bringing together catalyst suppliers, licensors, contractors, service providers and end users for a unique opportunity to exchange on the latest catalyst developments. Catalytic processes are at the heart of all refineries and petrochemical complexes and with the global catalyst market booming, the conference will give key stakeholders the unique opportunity to be brought up to date with the latest developments in this dynamic and fast rate growing sector.

Key Topics:
Market Overview & Trends
Increasing Conversion & Complexity to Meet Demand & Remain Competitive
Impact of IMO Marpol VI Regulations - Challenges, Solutions, Refining & Shipping Industry Cooperation
Residue Upgrading Innovation & Technologies
Focus on Thermal, Ebullated Bed & Slurry Hydrocracking technologies
Current & Future Projects - Case Studies, Best Practices, CAPEX Optimisation & Efficient Project Management & Execution
Innovations in Tools & Equipment - Specialised Instrumentation & Heat Exchange Equipment, Efficient BOB Equipment Clean-out Techniques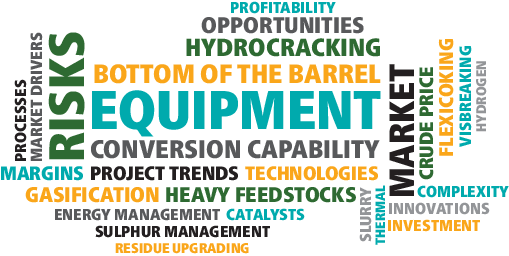 Key Topics:
Catalysts for Refining

Catalytic Reforming & Isomerisation Catalysts
Hydroprocessing Catalysts
FCC Catalysts for Max Naphtha
Selective Hydrogenation Catalysts
Residue Hydrocracking
Catalytic Dewaxing
Solid Bed Alkylation Catalysts

Catalysts for Petrochemicals

Catalysts for Aromatics & Olefins Production
Detergents
FCC Catalysts for Max Olefins

Enzymes & Bio-Catalysts – BioRefineries
Catalyst Management – Guard Beds, Regeneration, Spent Catalyst, Metals Recovery, Presulfiding, Monitoring Tools & Instrumentation
Modern Catalyst Testing, Evaluation Techniques & Procedures
The Importance of Research in Producing Performance Catalysts
Hydrogen Production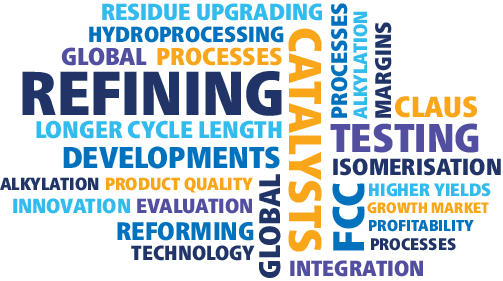 Exhibitors
If you would like to contribute to the BBTC MENA or ME-CAT 2018 programme, kindly submit your abstract here
Regular Attendees

2017 Conferences
BBTC MENA 2017 – Bottom of the Barrel Technology Conference took place on 4−5 December in the Four Seasons Hotel, Bahrain. On 6-7 December in Bahrain, the Middle East catalyst community came together at ME-CAT – Middle East Catalyst Technology Conference, to network and share insights on how to maximise success through catalyst innovations.
The conferences took place under the Patronage of H.E. Shaikh Mohammed bin Khalifa Al Khalifa, Minister of Oil, with the support of the National Oil & Gas Authority (NOGA) and Bapco as Principal Sponsor.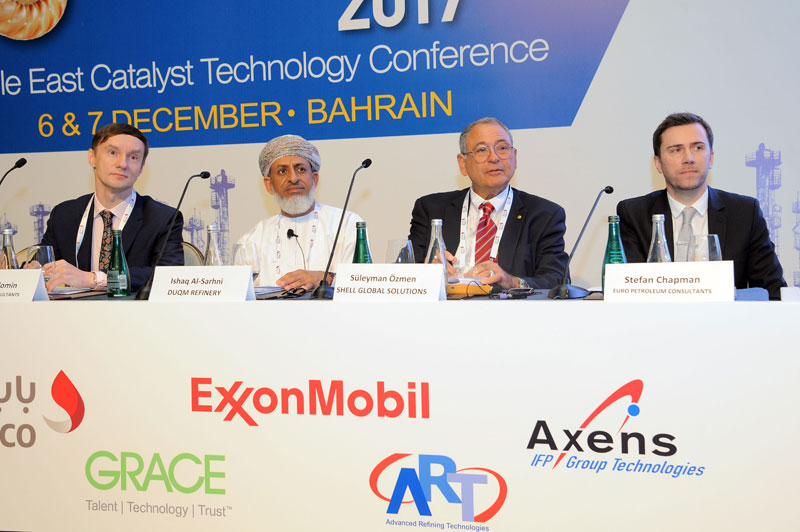 Testimonials
"
An event that should not be missed by refineries. Technology update and networking opportunity is exceptionally unique
"
Very well organised and informative presentations
"
Thank you to EPC for the highly informative sessions and professional coordination