SHARING KNOWLEDGE,
SHAPING BUSINESS
Euro Petroleum Consultants is a leading independent consulting company with worldwide experience in the Energy Downstream Sector
Refining – Gas – Petrochemicals – Renewables – Alternative Energies
Sharing Knowledge, Shaping Business
Euro Petroleum Consultants was founded to provide insightful consulting advice and quality assistance to the Energy Downstream sector with a special focus on Refining, Gas and Petrochemicals.
Our mission is to support the needs of its clients in strengthening their business operations and contributing to their overall business growth by providing high quality consulting services and highly relevant industry specific events.
Being completely independent we are in a unique position to advise our partners (refiners, gas and petrochemical producers) solely in their best interests and throughout each stage of project implementation.
We have a global presence with main offices in London, Dubai, Sofia and Kuala Lumpur, with additional project offices in Paris and Dublin.
+

Years

of consulting experience spanning all regions
offices
in nine countries around the world
+

projects

on consulting successfully completed
+

events

held worldwide with international status
Euro Petroleum Consultants has been producing high-level events for the Downstream Oil, Gas & Petrochemical sectors since 1999.
These industry-recognized events are held globally and provide a unique platform for producers, consultants, technology providers and suppliers to come together and exchange on the latest industry trends, innovations and projects.
In 2021, we launched a new series of events focused on the Energy transition – the Energy & Sustainability Forums (ESF) – a meeting place for the downstream oil & gas industry to network and knowledge share in the context of Decarbonisation and Sustainability.
Euro Petroleum Consultants has extensive knowledge based on more than 27 years of experience in Europe, Middle East and Africa, Russia, CIS and the Caspian region. Euro Petroleum Consultants' mission is to act as Client Project Engineer (CPE), providing invaluable expertise, advice and support throughout all the stages of project analysis and implementation. Founder of Euro Petroleum Consultants, Colin Chapman has more than 50 years' experience in important downstream industry projects.
Advantages of CPE
Helps to maintain the project within budget, on target and up to the required standard
An excellent way to train the Client team
Recognition from the Contractors that the CPE team are controlling activities
Instrumental in resolving issues or disputes
May help to secure financing
More economical than a traditional PMC (Project Management Consultant)
CPE Services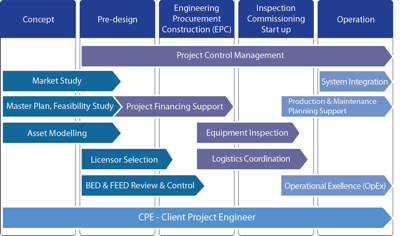 | CLIENT | REGION | PROJECT | SCOPE OF WORK |
| --- | --- | --- | --- |
| ALL BITUMEN CAMEROON | AFRICA | ABC PLC Bitumen Plant | CPE Services |
| PHU MY PLASTICS | ASIA | Polypropylene Project | CPE Services |
| SOCAR | CIS | Urea Complex & Polypropylene Project | CPE Services |
| SONARA | AFRICA | Refinery Expansion | CPE Services |
| LUKOIL NNOS | RUSSIA | FCC & HF Alkylation Complex | CPE Services |
| MOZYR REFINERY | CIS | HOIL Complex | CPE Services |
| AFIPKA REFINERY | RUSSIA | Major Refinery Upgrade | Technical Consultant to Bank |
| FORTEINVEST | RUSSIA | Orsk Refinery Expansion | Technical Advisor |
Building on its longstanding experience in the oil, gas and petrochemical industries both as independent consultants and conference organisers, Euro Petroleum Consultants has developed a series of training, seminar and workshop services to deliver the highest level of technical and strategic expertise.
Training Programmes
Training Subject Areas:
Crude Oil Selection | Refining Blending | FCC
Chemical & Petrochemical Catalysts
Fundamentals of Petrochemicals
Automation & Digitization of Process Plants
Health, Safety & Environment
EPC Recruitment Solutions is an engineering and technical recruitment specialist, with over 20 years' experience in successfully placing high calibre staff for contract, interim and permanent roles throughout the world. Built on extensive industry knowledge, experience and a wide global network of contacts, Euro Petroleum Consultants offers clients invaluable recruitment support.
We provide recruitment services across the following core engineering sectors:
Oil & Gas, Petrochemicals,
Renewable energy
Life Sciences/
Pharmaceutical
Information Technology/
R&D
"
The quality of service provided by Euro Petroleum Consultants always matched the highest technological and professional level. It was always of great value for us.
MOZYR REFINERY
EPC's contribution helps to ensure that all issues are dealt with in a timely manner. EPC were able to act as a good interface for solving ongoing issues with the client.
VASILY RYBKIN, HONEYWELL
Euro Petroleum Consultants Ltd provides excellent venues and an outstanding environment in which to showcase leading technologies. The networking sessions have proved conducive in sharing knowledge and experience between exhibitors, sponsors and end users.
WALTER TIJMES, VICE PRESIDENT – SALES & TECHNOLOGY, DAILY THERMETRICS