Masterclass and Strategic Management in Petrochemicals
Home
/
Conferences
/
Masterclass and Strategic Management in Petrochemicals
18–20 November 2018
Dubai
COURSE CONFIRMED
Excellence in Business, Projects, Operations, Risk and Strategic Management
A tailored, best-practice-based and interactive "Masterclass and Strategic Management" with a comprehensive course book, covering principles and best practices of operational excellence, organisational and stakeholders' mapping and management, partnership and joint ventures, as well as illustrating real case studies in commercial, business, contract, customer, opportunity, project, operations, risk and strategic management aspects of a modern (petro)chemicals enterprise.
The content, design and conduct are based on the trainer's decades of experience in operational and senior leadership roles. It is developed for managers and senior leaders of (petro)chemical companies, government officials, consultants, industry associations, NGOs, as well as those providing materials and/or services to this vital 4-trillion-$ industry.
Learn from one of the world's leading experts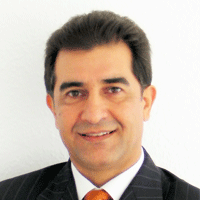 Former President of Shell Chemicals Middle East
AMAN AMANPOUR
Aman Amanpour has been an independent petrochemicals & energy consultant since April 2010 after retiring from Shell. His clientele consists of major petrochemicals and energy corporations, as well as renowned companies providing key services to these industries.
Read more...
Understand petrochemical products, projects, value chain and technologies
Gain insight into the latest commercial challenges and opportunities in the industry
Learn how to develop insights and techniques to increase opportunities and mitigate risks
Monetise tested best practices of managing markets and customers, leading modern petrochemicals operations, organisations, projects and businesses
This course is designed for experienced professionals in the petrochemicals industry, senior managers who need a big picture refresher, as well as for investors, regulators and suppliers.
The course is presented in a highly participative format. The trainer will start with some basic principles, requiring interaction and discussion with the delegates. Actual case studies, discussions and interactive analyses will ensure that the course content is both engaging and interesting.
Registration & coffee will start at 8:00am on Day One. The course will run for three days, starting daily at 8:30am and finishing at 4:00pm. There will be two coffee breaks and a seated buffet lunch on each day.
Agenda Key Highlights
Petrochemicals: Origins, Links, Processing, Key Products
Global and Regional Petrochemicals
A Responsible Industry
Economics
Vision, Mission, Objectives, Strategy, Planning and Monitoring
Winning Leadership in Petrochemicals Commercial Operations
Business and Project Development
Today's HC Enterprise and the World - an example
Operational Excellence in Manufacturing
Petrochemicals Stakeholders
IOCs, NOCs, Independents in Petrochemicals
Partnerships and Joint Ventures
"
It was smooth and easy to understand what trainer is trying to say. So much knowledge which is useful for my career.
— Hamad Salem Al-Malki, Assistant Business Analyst, QAFAC
"
Very useful and informative workshop. It broadened my knowledge very highly.
— Waleed O. Al-Saad, Project Manager – Third Party Projects, SADARA
"
I gained very knowledgeable information and knowledge about the petrochemicals industry. Mr Aman is a very knowledgeable person in this sector and field, in addition to a very deep experience. Thank you Aman.
— Saeed Kharbash, Senior Procurement Engineer, ChemaWEyaat
"
This masterclass is a must to take as it combines comprehensive overview of the petrochemical sector, important factors affect major business expansion, decisions and best sustainable practices/examples.
— Saeed Al-Kaabi, Business Development Manager, BOROUGE
"
Overall, it was a very good experience and learning. Hope to apply in day-to-day job.
— Ganesan Kathirvel, Marketing Manager - Power Industry and Process Analytics, ENDRESS & HAUSER