10–11 December 2019
Bahrain
BBTC MENA 2019
Bottom of the Barrel Technology Conference

Sponsors
Welcome to
BBTC MENA 2019
Euro Petroleum Consultants is pleased to announce BBTC MENA 2019 – Bottom of the Barrel Technology Conference will take place from 10–11 December in Bahrain.
The growing importance of residue upgrading is clear to see. Today, competition in the petroleum refining industry continues to grow; therefore refiners are looking to minimise fuel oil production by means of integrating deep conversion processes into their asset configuration. In the current market, simple refinery configurations are no longer competitive and residue upgrading is an essential design feature in any world-class refinery complex. Increasing conversion and consequently curbing low-value fuel oil production, is without a doubt, a key challenge for many existing and grassroot refining facilities. Yet, since there is a whole range of commercially proven deep conversion technologies, it is up to each refinery to select an optimum process configuration based on their specific features and requirements.
Established 18 years ago, Euro Petroleum Consultants' BBTC – Bottom of the Barrel Technology Conference is the only event to focus on residue upgrading. BBTC MENA has become one of the most insightful conferences for the refining industry in the Middle East, especially as more and more focus is given to residue upgrad.
Exhibitors
Key Topics:
Market Overview & Trends
Increasing Conversion & Complexity to Meet Demand & Remain Competitive
IMO 2020 is here – the real impact
Residue Upgrading Innovation – Technologies, Tools & Equipment
Focus on Thermal, Ebullated Bed & Slurry Hydrocracking Technologies
Innovations in Tools & Equipment - Specialised Instrumentation & Heat Exchange Equipment, Efficient BOB Equipment Clean-out Techniques
The Growing Importance of Integration with Petrochemicals
Current & Future Projects - Case Studies, Best Practices, CAPEX Optimisation & Efficient Project Management & Execution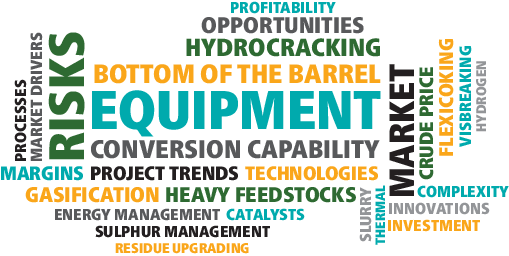 BBTC MENA Advisory Committee
Preliminary Programme
If you would like to contribute to the BBTC MENA 2019 programme, kindly submit your abstract here
BBTC MENA 2018 – Bottom of the Barrel Technology Conference
2018 Advisory Committee
Nadia Bader Hajji

DCEO (Al-Zour Petrochemical & LNGI)

Kipic

Hafedh Al-Qassab

GM Refining

Bapco

Vinod Ramaseshan

Engineering Specialist

SAUDI ARAMCO
David Marion

VP Manufacturing

Satorp

Mubarak Al-Mutairi

Manager Technical Services MAB

KNPC

Stefan Chapman

Vice President

Euro Petroleum Consultants
2018 Sponsors & Exhibitors
BBTC MENA 2018 – Bottom of the Barrel Technology Conference took place on 3 & 4 December at the Diplomat Radisson Blu Hotel, Bahrain. The conference took place under the Patronage of H.E. Shaikh Mohammed bin Khalifa Al Khalifa, Minister of Oil, with the support of the National Oil & Gas Authority (NOGA) and Bapco as Principal Sponsor.
BBTC MENA 2018 - Bottom of the Barrel Technology Conference, 3–4 December, Bahrain
Testimonials
"
Bottom of the Barrel Conference is a very valuable source of information, knowledge and sharing experience
"
Great Event to keep updated with latest predictions in the market and the most advanced technologies.
"
Excellent presentations and amazing networking opportunities
Media Partners
Media Partners & Supporters
Venue
Manama, Bahrain