Strategic Management in Petrochemicals
TRAINING SEMINAR
Understand the dynamics and challenges of the GCC petrochemical industry based on available feedstock and how this creates opportunity in the global marketplace.
A tailored, best-practice-based and interactive programme with a dedicated pre-reading to establish a strong foundation ahead of attending and a comprehensive course book, covering principles and best practices of operational excellence, organisational and stakeholders' mapping and management, partnership/JV, as well as illustrating real case studies in commercial, business, contract, customer, opportunity, project, operations, risk and strategic management aspects of a modern (petro)chemicals enterprise. The content, design and conduct are based on the trainer's decades of experience in operational and senior leadership roles. It is developed for managers and senior leaders of (petro)chemical companies, government officials, consultants, industry associations, NGOs, as well as those providing materials and/or services to this vital 4-trillion-$ industry.
Learn from one of the world's leading experts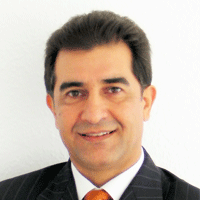 Former President of Shell Chemicals Middle East
AMAN AMANPOUR
Aman Amanpour has been an independent petrochemicals & energy consultant since April 2010 after retiring from Shell. His clientele consists of major petrochemicals and energy corporations, as well as renowned companies providing key services to these industries.
Read more...
Understand Petrochemical products, projects, value chain and technologies
Gain insight into the latest commercial challenges and opportunities in the industry
Learn how to develop insights and techniques to increase opportunities and mitigate risks
Monetise tested best practices of managing markets and customers, leading modern petrochemicals operations, organisations, projects and businesses
This course is designed for experienced professionals in the petrochemicals industry, senior managers who need a big-picture refresher, as well as for investors, regulators and suppliers.
The course is presented in a highly participative format. The trainer will start with some basic principles, requiring interaction and discussion with the delegates. Actual case studies, discussions and interactive analyses will ensure that the course content is both engaging and interesting.
Registration & coffee will start at 8:00am on Day One. The course will run for two days, starting daily at 8:30am and finishing at 4:00pm. There will be two coffee breaks and a seated buffet lunch on each day.
Agenda Key Highlights
Review of pre-reading material ('Masterclass in Petrochemicals') followed by Q&A winning leadership in petrochemicals commercial operations
Business and project development
Enterprise and bu risk framework
Operational excellence in manufacturing
Petrochemicals stakeholders
IOCs, NOCs, Independents in petrochemicals
Partnerships and joint ventures
Vision, mission, objectives, strategy, planning & monitoring
"
Exceeds my expectation. Excellent.
— Ahmed Saeed Ghaleb Al Mheiri, CEO, ChemaWEyaat
"
Thanks and appreciated.
— Dhafir Ali AlShehri, Lead Planning Engineer - Business Planning, SADARA
"
It was a great course that took the participant through a summary of some key commercial aspects, economics and account management.
— Turki Ahmad Al Shehri, General Manager – Operations, SIPCHEM
You might also be interested in